Waterbeds consist of mattresses that are filled with water instead of air. There are typically two types of waterbeds: a hard-sided waterbed, in which the water-filled mattress is contained by a wooden frame and rests on a plywood platform; and a soft-sided waterbed, where the mattress sits inside a foam frame on a wooden platform base. The soft-sided waterbed resembles a typical bed, and is designed to accommodate traditional furniture.
Though not much is known about early waterbeds, there is evidence that they were used by sick patients in infirmaries from as early as 1871, and were briefly noted in a book by Mark Twain. In 1883, an English doctor patented waterbeds as an invention that could provide comfort to sick patients and prevent bedsores; however, his invention had significant problems with water leakage and temperature control, and did not become popular with the general public. The prototype for the more modern waterbeds was created in 1968 by Charles Hall, who was a design student in San Francisco at the time.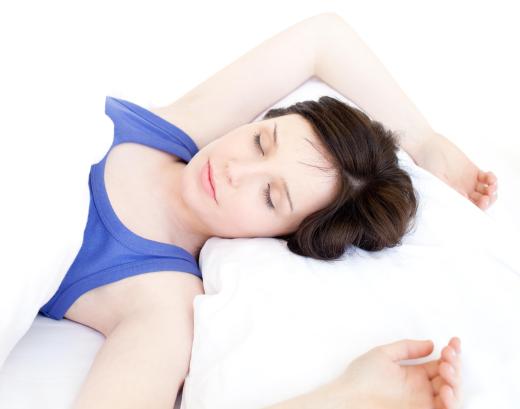 During much of the 1970s, waterbeds were a trend in many households, though their popularity has waned in recent years. However, waterbeds do have several advantages over regular beds. They provide excellent therapeutic benefits to the back, as the mattress will bend to support the body. Waterbeds are also temperature-controlled, so they can be heated to a comfortable temperature in winter and kept cool during summer months. They are also excellent for people who have allergies to dust mites and other household allergens, as nothing can penetrate the surface of the waterbed mattress.
On the downside, regular temperature control for the mattress can be expensive, and waterbeds are much more difficult to move than regular beds, as all the water must be drained from the mattress. Waterbeds are also known to leak on occasion, though there is a cover that will catch any leaking water before it causes damage to the house.
Waterbeds are not typically available in regular bedding stores, but there are a wide variety of specialty shops dedicated exclusively to waterbeds. If you plan to purchase a waterbed, the best way to make a choice is to go to a waterbed dealer who can address all of your questions and concerns, and help you pick the right waterbed for your house.
AS FEATURED ON:
AS FEATURED ON:

By: WavebreakMediaMicro

Some waterbeds provide firm back support while adjusting to the sleeper's contours.

By: Piotr Marcinski

Waterbeds are excellent for people who have allergies to household allergens.

By: vladimirfloyd

Sleeping on a waterbed may help support the spine and relieve neck pain in some people.

By: francisco

In 1883, an English doctor patented waterbeds as a means to prevent bedsores in patients.