What Are the Different Types of Wardrobe Shelving?
Wardrobe shelving varies in size, style, shape, and construction material and is often associated with wardrobe, or closet, organization systems. Although popular in houses with large, walk-in closets, organizational systems are available for any type of area which needs shelves, drawers, hanging hooks and rods, or hampers. The shelving is normally made of one of three types of material: wood, metal, or laminate.
Wooden wardrobe shelving is best for closets in which clothes are stored. The oils from certain types of wood, especially cedar, deter moths and other pests that cause damage to clothing. High quality wood is extremely durable and will last for many years. Carefully chosen wood shelving can have timeless style as well.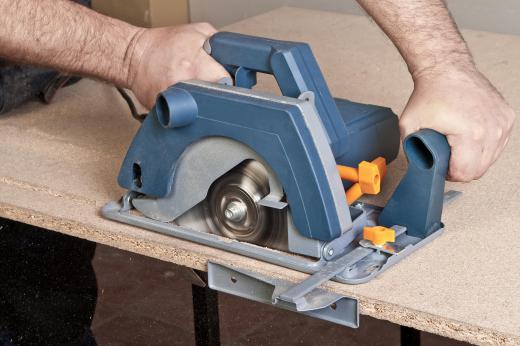 A wardrobe organization system can increase the value of a house and, once installed, becomes a built-in feature of the home. Like any type of furniture, the higher the quality of the wood and craftsmanship, the higher the cost of installation. Wardrobe shelving made of wood that is integrated into a large space like a walk in-closet, can cost a substantial amount of money, similar to the cost of remodeling a bathroom or buying new dining room and living room furniture.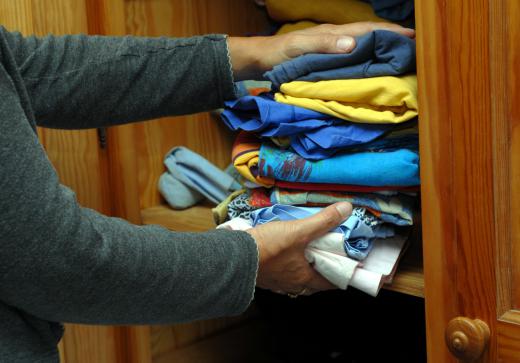 Laminate shelving is much cheaper than wood. Though it is typically designed to look like real wood, laminate has particle board or plastic at the core. Wood veener shelves are similar to laminate in the sandwich design with particle board in the middle. A thin layer of higher quality wood, the veneer, covers both sides of the particle board.
Cheaply made laminate is a poor material for shelving. Since shelves are typically quite long and have to support weight, the middle of a poorly made laminate shelf may begin to bow after even a few months of use. Laminate and veneer wardrobe shelving can also react poorly to the high levels of moisture in a bathroom or any other room. The moisture can loosen the glue, causing the layers of laminate and particle board to separate or peel. Certain types of laminate are well made and will resist bowing and separating, but they may be more expensive.
Metal shelving is not solid but is made like a grid or grill, out of thin, metal wires. It can be used as wardrobe shelving or even in industrial settings. Some types of wire shelving are designed to hold up to hundreds of pounds (1 pound = 0.454 kg). Although cheaper than wood, and free of the problems commonly associated with laminate, many people do not like wire wardrobe shelving because of its lack of aesthetic design. It is typically not as attractive as wooden or laminate shelves. Its advantages lie in its practicality and affordiblity.
AS FEATURED ON:
AS FEATURED ON:

A person cutting particle board to make wardrobe shelving.

By: Richard Villalon

Wooden wardrobe shelving is best for closets in which clothes are stored.

By: Paul Maguire

A wardrobe may include drawers for storing accessories.