What are the Different Types of Incense?
For centuries, people have been using incense for religious or spiritual, aesthetic and therapeutic reasons. Today, it is still used for these purposes, as well as for creating a pleasant atmosphere and scent to enhance the ambiance of a home. Because of its long history, incense has evolved into many different types and forms, from its scent, to its shape, to the way it burns.
Stick incense is probably the most common form. The gum or resin from which it is made coats a long thin stick that burns slowly, releasing the particular fragrance that it contains. The stick type can also be solid so there is no stick center or core, only a solid chunk of material.
Spiral incense is similar to stick, but it is shaped in a coil. This type burns very slowly, lasting for hours or days depending on its composition. This type offers an interesting form in addition to its fragrant properties.
Cone incense is a chunk of the same gum or resin used in the types described above, but it stands alone in the form of a cone. It is lit at the tip and burns down, releasing more smoke and fragrance as it nears the base. Because of its mass, it does not burn uniformly as stick incense does. Cone incense is lit and extinguished, leaving a burning ember which continuously releases smoke and fragrance.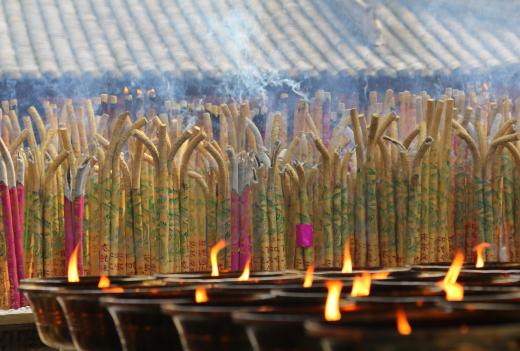 Powdered incense is usually reserved for religious ceremonies. The amount of preparation required to burn it is often inconvenient for someone who only wishes to enhance their surroundings. It is burned in a censer, a container specifically made for this task. This type, along with others that are made purely of resins, require a separate heat source. Traditionally, these are often burned directly on hot ash, coal or specially made heated plates.
Incense comes in a variety of different colors and fragrances. Fragrances are created from different organic plant materials, animal derivations such as musk and essential oils that are extracts of either or both. The fragrance can be a single scent found naturally or a combination of two or more ingredients. The combinations of scents are endless, as is the variety of burners and paraphernalia that hold them.
AS FEATURED ON:
AS FEATURED ON:

By: viperagp

Some people like to use incense "blanks" to dip in their own essential oil blends.

By: gigidread

The heart of the sandalwood tree is harvested, ground, and then burned as sandalwood incense.