What are Antique Brick Pavers?
Antique brick pavers are bricks that were originally used to pave roads and sidewalks, and which have since been reclaimed and saved from landfills or from being unceremoniously covered up with asphalt. Demand for these pavers is skyrocketing among private homeowners, commercial developers and even cities and towns that wish to restore a historic look. Amarillo, Texas, in an effort to restore brick streets, spent approximately $200,000 US dollars (USD) to restore a single block and has plans to complete more. Historic Bricks, Inc. of Iowa City, Iowa reclaimed approximately 40 to 50 million pounds (18 to 23 million kilograms) of antique pavers during a three year period. Historic Bricks, along with many other dealers of antique brick pavers, has saved additional millions of pounds from landfills and dumps, allowing them to shine again, reborn as showplace patios and quaint city streets.
Many antique brick pavers are saved from brick factory yards, dumps, backyards, city streets and sidewalks, and buildings undergoing demolition. Most of the supply in the United States is salvaged from all over the country, but some may be salvaged abroad as well. The pavers tend to be at least 80 to over 100 years old and have proven their durability in heavily traveled areas.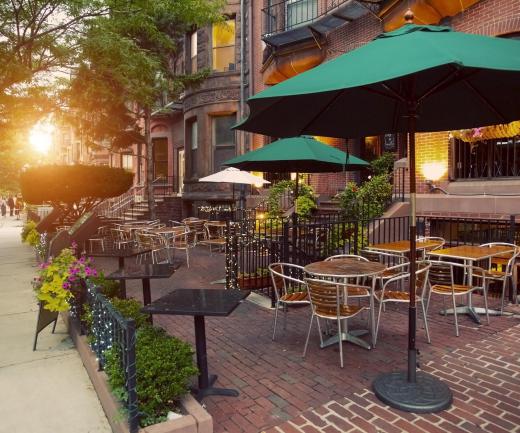 Advocates of antique brick pavers claim that a brick road has a 50 year life span before it needs major repairs, which can be similar to concrete. Concrete, however, can develop potholes due to weather and water. Asphalt has only about a 15 year life span before it needs to be replaced.
Antique brick pavers are perfect for projects involving driveways, sidewalks, patios, walkways and pool areas. There are many color variations available — from dark red to grey, brown, purple and salmon. It is advised to allow for five bricks for every square foot (0.09 square meter) of a project. Many companies will deliver materials directly to the project site.
Someone who wants a unique, historic material to restore his or her own historic home or to add some charm to new construction may find that antique brick is the perfect choice. For preservationists, reclaimed pavers are a way to preserve beautiful historic materials. For environmentally minded builders and homeowners, they are a smart choice for reusing and recycling existing materials while saving them from the landfills.
AS FEATURED ON:
AS FEATURED ON:

By: SOMATUSCANI

In the past, traditional brick was frequently used for sidewalks and other paved areas.